Description
Charity auction for the association Manon Coeur de Lion
The artwork:
24 carat gold porcelain and maki-e Heart
Unique piece, signed
Who is Manon?
Manon is a 5-year-old girl living in Paris who has had mitochondrial cytopathy since birth. There are many mitochondrial diseases, but Manon's is particularly disabling. Manon cannot walk or even crawl, nor does she speak. Nevertheless, she is very communicative, very present, she knows how to express her emotions very well and above all, she is a happy child. For her, her parents created an association to collect donations to finance re-education internships in France and abroad, stimulation equipment to train at home, trips to meet researchers working on her disease in Spain, but also to finance any project that would allow Manon's well-being.
An important purchase is to be expected in the near future: a disability-adapted vehicle. The bigger Manon, the more numerous and voluminous its equipment… The association therefore needs your help to succeed in financing this project… We are counting on you!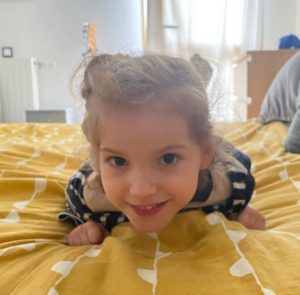 Vente au profit de l'association Manon Cœur de Lion
L'œuvre:
Cœur en porcelaine et maki-e à l'or 24 carats
Pièce unique, signée
Qui est Manon ?
Manon est une petite fille de 5 ans, qui vit a Paris et qui depuis sa naissance est atteinte d'une cytopathie mitochondriale.  Il existe de nombreuses maladies mitochondriales mais celle de Manon est particulièrement handicapante. Manon ne peut ni marcher, ni même ramper,  et elle ne parle pas non plus. Néanmoins elle est très communicative, très présente, elle sait très bien exprimer ses émotions et surtout, c'est une enfant heureuse. Pour elle, ses parents ont créé une association afin de récolter des dons pour financer des stages de rééducation en France et à l'étranger, du matériel de stimulation pour s'entraîner à la maison, des voyages pour rencontrer les chercheurs qui travaillent sur sa maladie en Espagne, mais aussi pour financer tout projet permettant le bien être de Manon.
Un achat important est à prévoir dans un avenir proche : un véhicule adapté. Plus Manon grandie, plus ses appareillages sont nombreux et volumineux… L'association a donc besoin de vous et de votre aide, pour réussir à financer ce projet… On compte sur vous !